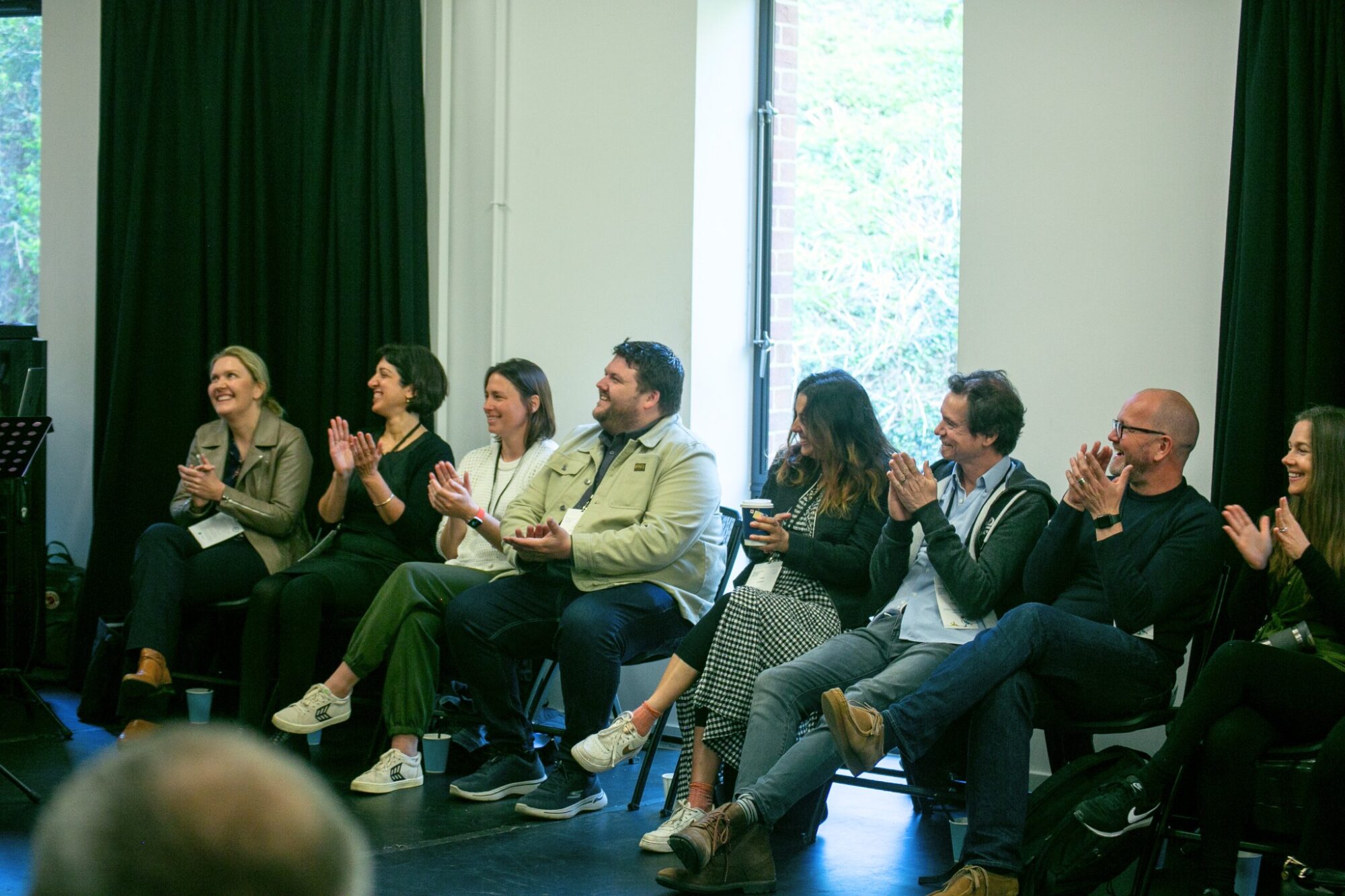 HOURS, speakers, workshops, keynotes – what's the difference? << Back
Posted on:
Brighton Summit brings together a wealth of experiences, sessions and ways to learn every year. The programme is curated to surprise you, inspire you, and give you new (and fun!) ways to network and learn with each other.  
We split the day in to keynotes, workshops, HOURS and speakers so there's a diverse range of content and ways to connect.  
So, what's the difference? And what can you expect from these different parts of the day?  
Here's a one-minute run down of what each session is, what you can expect, and why should be getting excited already.  
Keynotes  
The big one. Everyone gathers in the main auditorium to hear from a keynote speaker. They'll bring their stories of business, or their personal stories, and how they relate to our theme – this year, it's Human.  
Last year, our final keynote of the day was Floella Benjamin. She talked us through her personal journey arriving as part of the Windrush generation in Britain, to becoming an actress, TV presenter, campaigner and politician. She left to a standing ovation and not many dry eyes in the audience.  
At other Summits we've heard from the likes of Gina Miller, Kamal Ahmed and Sam Roddick. Prepare to be wowed, laugh, hear stories from different perspectives, and maybe shed a tear or two.  
HOURS  
HOURS are (you guessed it), an hour doing something different. The Summit is a full, jam-packed day, but it's not static moving from chair to chair.  
Expect to get moving, learn a new skill, and have fun during our HOURs. This year, we've got LEGO building, wine and cheese tasting, a chance to explore our relationship with death, the power of breath and releasing your inner cartoonist.  
In previous years, we've had people come together over crochet, laptop disassembly, exploring a quantum physics lab, meditating, learning about the history and architecture of Sussex University, and plenty more.  
HOURS are wacky, surprising, unexpected, and a whole load of fun. You might even fit some networking in.  
Workshops  
These are your chance to learn new skills from an expert. It might help your personal development, your professional development, get you thinking about new ways to tackle challenges in your business, or just thinking differently.  
We've had workshops from experts on asking smarter questions, speaking confidently, kindness, and how to unfrazzle. Come away with a new perspective, and something new to try out in your business too.  
Speaker sessions  
Your afternoon speaker sessions are a chance to get a bit more up-close and personal with thought-provoking, interesting humans, all doing brilliant things in Brighton and beyond.  
At this year's Summit, you'll hear from William Baldwin, Principal at BHASVIC for 'The future human employees' talk; and Simon Muir from SwimTek who'll be talking about the journey to opening Brighton's new SeaLanes. In previous years, we've had speakers ranging from accessibility at Brighton & Hove Bus Company, to Brighton tech startups taking the world by storm, to climate change and everything in-between.  
Listen to an engaging talk hearing someone's business journey, that you'll want to dissect and discuss with people afterwards.  
Food: an honourable mention  
Not technically one of your sessions but it warrants mentioning. We feed you well at Chamber events, and the Summit is no different. It's a long day (there's a lot to fit in, as you can tell), so you need to stay fuelled and energised!  
It's not a beige buffet – this year, expect breakfast from Sugardough; mid-morning brain food; a colourful lunch from Gem's Wholesome Kitchen; an afternoon tea and cake break; rounded off with bubbles from Ridgeview – or hoppy bubbles from UnBarred if that's more your thing. Plus, tea and coffee all day from Bird & Blend and Redroaster (and yes, that's all included in the price of your ticket).  
See you in October!  
We're busy adding more – yes, more! – to this year's schedule. So, keep an eye out on the Summit website for updates, or make sure you're signed up to our mailing list to get them as they happen.  
And if you haven't got your ticket yet – what are you waiting for? Tickets on sale now for 20 October, grab yours here.