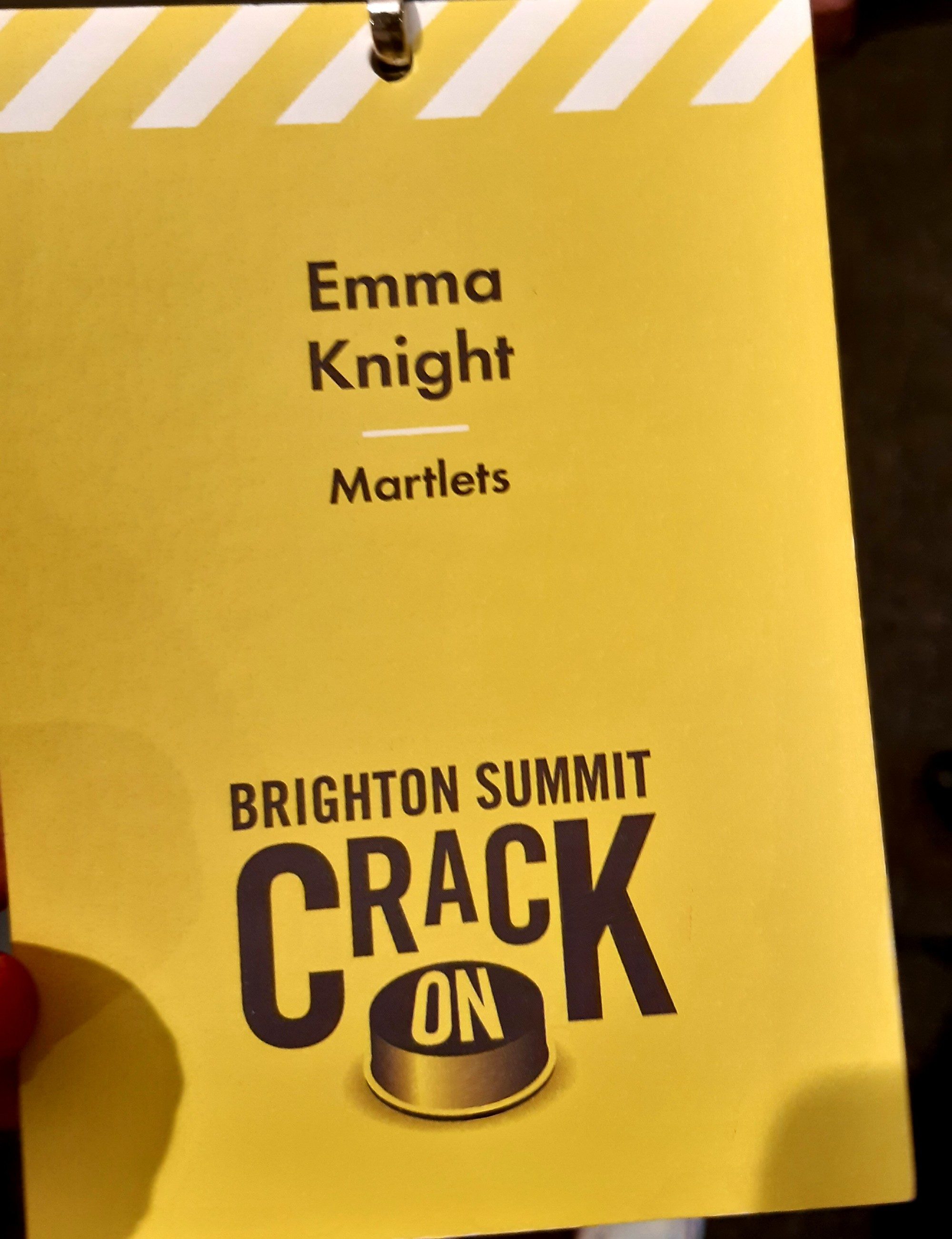 What it means to 'Crack on'! << Back
Posted on:
The Impostor
When I was asked to join a group of dynamic, smart, creative and successful individuals to help curate this year's Brighton Summit I glanced over my shoulder and exclaimed 'who me?' The fact that I was alone in my office and I was saying it to an email should, perhaps, have been an indication that I was stepping into a group I might not really belong to. When I saw the title given to the group, 'Brilliant Brains' no less (!), impostor syndrome gave me a massive whack round the head. I said yes anyway though because, you know, ego!
I met with said group of Brilliant Brains for the first time on February 6th and it turns out that they are indeed brilliant AND inclusive, warm, fun, funny and open – just like the business community we collectively represent. With limited time in our diaries we didn't know it right away, but we embodied the theme for this year's Summit.
Cracking on
In an hour and a half this set of brains, fuelled with a little coffee courtesy of the @DukeofYorks, decided that in one way or another in our professional lives everyone has a point where despite, or because of, challenges they must simply Crack on.
Fast forward 6 months and a couple more meetings to Friday 11th October 2019 and we found ourselves surrounded by 400 fellow Brilliant Brains (we are all brilliant in own ways) for a day packed with thought-provoking sessions.
Summit
The day was kicked off by Hannah Dawson of Brighton-based, international success-story, @FUTRLI . Hannah set the tone for the day, no doubt for everyone, but for me in that she began the golden thread that worked its way through every session I attended. Hannah started at the very beginning and in doing so noted that 'fear stops us' from doing what we really feel we should be doing and that a lesson in life is recognising that 'there are no straight lines.' She cited having an 'always learning mind-set' and 'no pride' as traits she feels have helped on her journey to date, caveating that with a need for ego to push you forward. Er – see above! Crucially for me, she cited resilience – twice.
Resilience
I went on to participate in a workshop run by Fairisle on Blockers – What's Stopping you; I was captivated by the folk from @TakeShelterDJS discussing war time Brighton; I heard Kamal Ahmed speak of being 'other' as a child and that notion of 'other' as it rises and presents itself today; I attended a panel podcast on The Rise of Planet Z on how Gen Z's are changing the world; and, finally, I listened with baited breath, as did we all, to the inimitable @thatginamiller.
I started scribbling with some certainty that I'd found what would become the golden thread through each of these inspirational sessions, knowing I'd want to write about this afterwards. Even if they didn't all cite the R-word, every single session spoke to the power of human resilience. As Hannah Dawson said in her opening keynote, it's all the about the people. Organisations aren't entities without people, and people's resilience in the face of challenges both large and small is what drives things forward.
The interactive session on Blockers brought up fear as being one blocker for many of us in the group I was part of. Fear that we individually knew we could and would push past because the end result was too important. This takes courage and resilience, not least as that fear may be to do with a series of challenges we know we'll have to overcome to get to the end result.
Our friends at Take Shelter spoke about their personal experiences as evacuee children. At one point, describing in incredible detail the sights and sounds of a city bombed far more than I was aware, Alan spoke of the fact that when in the shelter, children and adults alike didn't panic, they sat and waited. If that's not resilient I don't know what is!
Kamal Ahmed and the panel speaking on the rise of Gen Z shared different but relatable examples of rising and pushing forward despite negative narratives, with the view from our friends @MakeGood Trouble that Gen Z go for it and if it doesn't work they do something else!
Finally, Gina Miller shared an overview of a life which has involved some hugely traumatic events saying that she made a choice – she chose to live the life she lives and to be where she is now. When questioned about growing a 'thick skin' she responded that for her it is resilience, which she discusses in her book. She went on to say that if she had developed a thick skin, it would have affected her ability to empathise. Gina Miller said a lot in 30 minutes and had us all on our feet!
Choice
It wasn't only my ego that took me to that first Brilliant Brains meeting. I heard that impostor fear and went anyway, something I know I've had to do a lot in recent years. Like the outstanding speakers mentioned above, the attendees who shared their stories and the people of our city continuing to push forward both personally and professionally, I have also experienced just how resilient I can be. It's been a case of feel the fear, experience the pain, make a choice and Crack on anyway. Humans never cease to amaze me.
Emma is Head of Partnerships and Major Donor Giving for Martlets.
Emma will be speaking about her recent experience of pulling on her resilience and making tough choices at the Chamber Breakfast on December 13th.