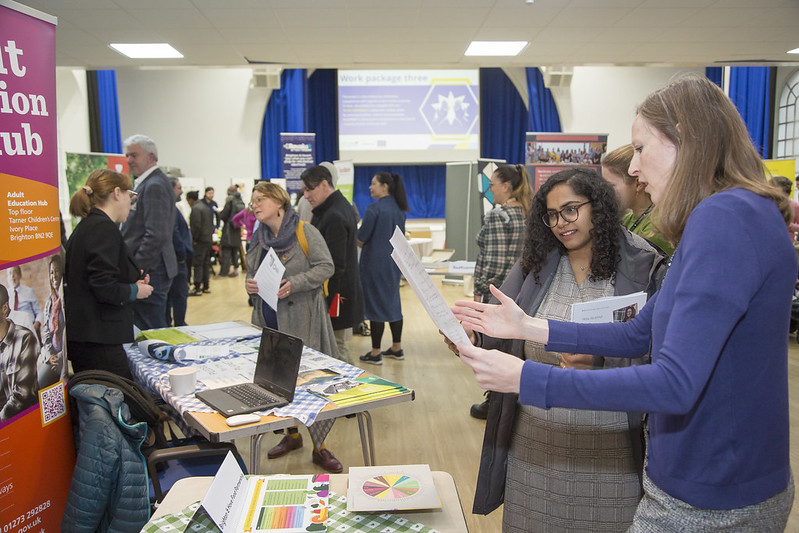 Tap talent for your business << Back
Posted on:
This year's Summit takes place – for the second time – on the beautiful University of Sussex campus.
Since we're talking all things HUMAN, one of our aims this year is to connect you to talented students and graduates.
The University's Careers and Entrepreneurship Team will be at the event on our stand throughout the day to chat to you about the many different routes to hiring. And most of them are free or even funded.
Vacancies
Advertise your vacancies to University of Sussex students and recent graduates, for free.
Your business may be a seasoned recruiter of graduates, or this may be the first time you're considering hiring a graduate. Either way, it's a very simple process to register with the team's CareerHub and post your vacancy.
You can also post vacancies for part-time student workers or placement students and, if you're a charity seeking to recruit volunteers, students are often looking to build experience and support their local community.
Funded interns
Does your business have a structured project or set of tasks that need doing (part-time or full-time) that could offer an intern personal and skills development?
As an employer, you can access full funding to recruit a Sussex undergraduate student, full-time for six or eight weeks during the summer of 2024.
Students apply to your particular internship vacancy and it's your choice who you select.
These opportunities are prioritised for the University's represented groups, which means, by hiring an intern, you can also diversify the talent coming into your organisation.
Expression of interest opens to organisations in December 2023.
Funded student consultants
The Sussex Student Consultancy Programme is an opportunity for you to solve a live problem your organisation faces while providing meaningful work experience to a small group of students. Students (studying a mix of academic subjects) work in groups on a project brief set by you for a combined 100 hours.
There is no financial commitment (students receive a bursary to take part), time commitment is low, and you, as their 'client', benefit from a business-style presentation, delivered by the student team with their recommendations, at the end of the project.
With its focus on sustainability, the University is particularly keen to talk to you if you have a sustainability challenge you'd like your student team to address.
Student Consultancy runs twice during the academic year: Nov/Dec and Feb/March
Placement students
Recruiting a placement student is a great way to access new skills and to identify and review a potential future employee.
Your placement student will work within your organisation for one year, between their second and third year of study.
The placement opportunity is open to students studying all subjects at the University, so you can find someone who has the right skills, knowledge and interests for your job role.
Recruiter Fairs
And finally…
If you have a number of live vacancies for students or graduates, then you might like to book your stand at one of the following upcoming Sussex events…
Student Jobs and Volunteering Fair: October 2023
This is your opportunity to meet new and returning Sussex students who are seeking paid and voluntary work experience alongside their studies.
Careers Fair 2023: 8 November 2023
Meet students and graduates to promote your placement and graduate opportunities. This is one of the University's flagship events and is held at the American Express Stadium in partnership with the University of Brighton.
Summer Jobs Fair: February 2024
Come to campus and promote your summer jobs and internships to all students.
Mini Careers Fair: April 2024
Come to campus and promote your graduate roles to finalists before they leave.
See you in October!
To find out more about any of the above hiring routes – or to express your interest, do have a read here.
And we'll see you in October to take your questions and connect you to the University's Careers and Entrepreneurship team!
The University of Sussex are sponsor of this year's Human: Brighton Summit on 20 October at the Attenborough Centre for the Creative Arts. See what's planned for the day so far here.