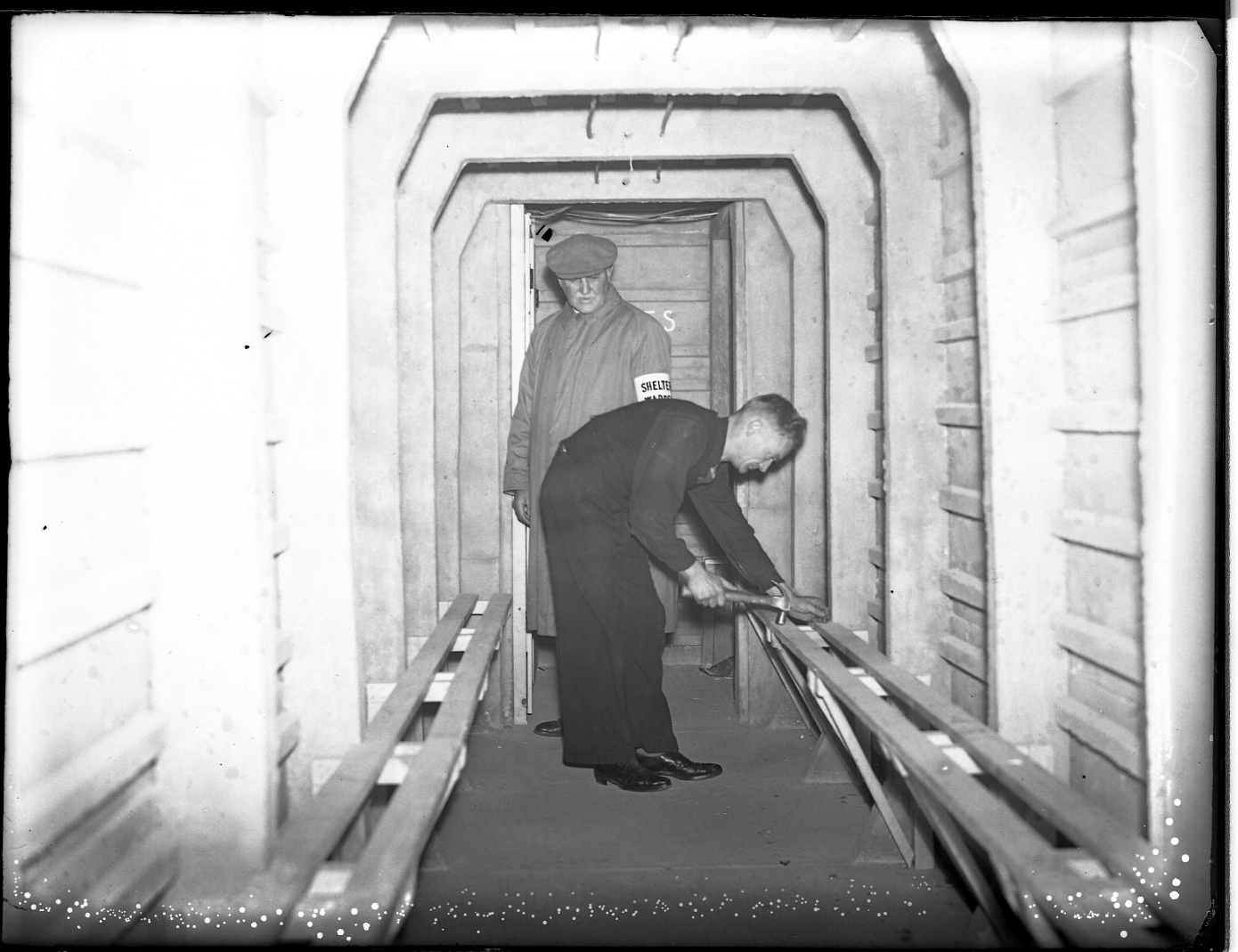 Take Shelter: an immersive museum << Back
Posted on:
At this year's Brighton Summit, Take Shelter is hosting an Engine Hour session. We spoke to Jesse and Al, two of the driving forces behind this local history project, to find out more.
What is Take Shelter?
Take Shelter is an immersive museum that we've installed inside an original World War Two air raid shelter at Downs Junior School.  Visitors experience what life was like during the war years with first hand stories brought to life with rare local photographs, archive video clips and a bombing simulation. Our team of volunteers host tours for local schools throughout the year, and open for public visits in May and September as part of the Brighton Fringe Festival and the Heritage Open Days. Since we opened in 2016 we have welcomed over 7,500 visitors on 750 guided tours.
When did you first realise you were on to something pretty special?
(Al) When we first opened to the public in May 2016 we were worried that no-one would come, but it quickly became apparent that our problem was one of capacity and many disgruntled visitors had to be turned away. However, feedback from those who were able to visit was so positive and supportive, that we knew it wasn't going to be a one off event. (Jesse) For me it was the first time I went down into the shelter. My children attend Downs Junior School but I never knew there was an air raid shelter with a capacity for 300 children under my feet!
So is this a side hustle not your main jobs?
(Jesse) Yes this is a passion project for me. My wife and I run Wigwam, the local toy shop in Fiveways. (Al) I have a full time job running a video production business, so yes, Take Shelter is definitely a side hustle and one that has been hugely rewarding.
What's the main lesson that you have learnt from the project?
(Al) In 2015 every aspect of the project was done by a small team with little structure or planning. What's been achieved is a testament to the dedication and energy of our volunteers and is definitely a case of like-minded people being in the right place at the right time. (Jesse) I've learnt an awful lot about World War 2! But apart from that, I've been amazed at what a group of highly motivated individuals can achieve on a shoestring budget.
What things do you want people to take away about WW2?
We would like visitors to experience what life was like on the home front in Brighton, and through our first hand stories, remember this extraordinary time in our recent history.
What's the long term plan for the museum? 
We are currently raising money to replace the steep ladder entrance with a recessed staircase, once that's complete we will focus on preserving and improving this important local resource for the next generation.
Check out their Engine Hour session here.