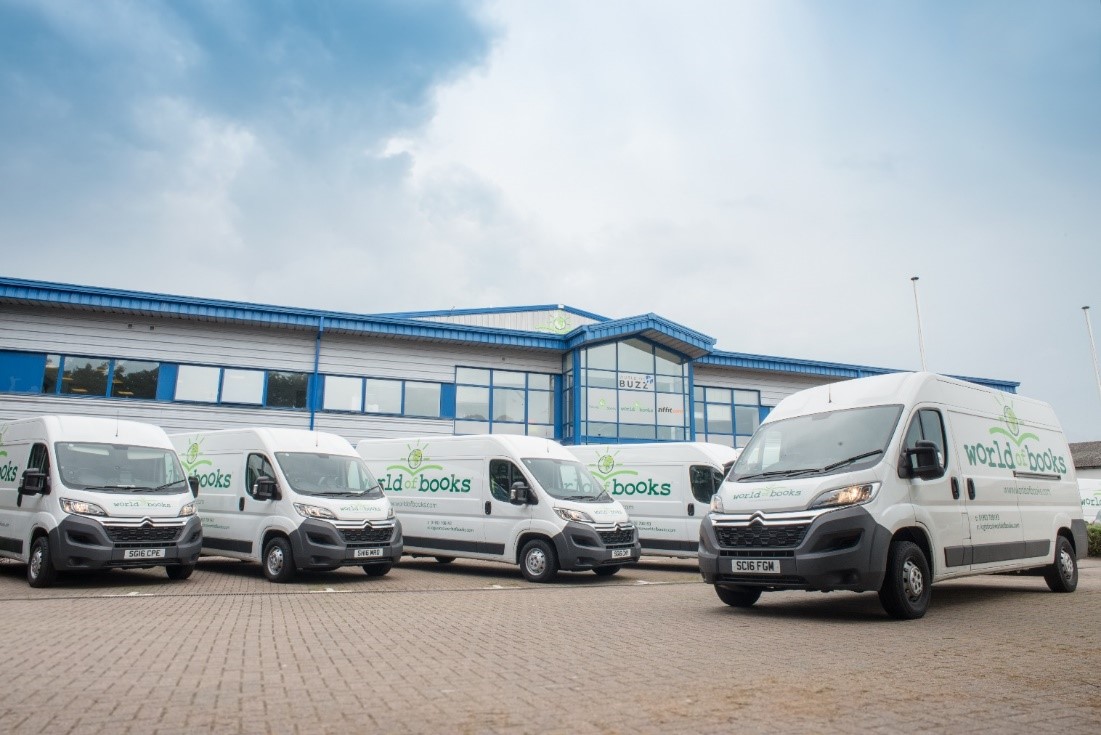 Squaring the circular economy of books << Back
Posted on:
World of Books is Europe's biggest online retailer of used books, and one of the biggest employers in Worthing. CEO Stephen Boobyer is telling the World of Books story at this year's Brighton Summit, revealing how the company has grown from a start-up to 600 people in just ten years, scooping a Queen's Award for Enterprise in 2017. Stephen spoke to Summit curator Sam Knowles, Founder of Lewes-based storytelling consultancy, Insight Agents.
Sam: Can you tell us about your career journey?
Stephen: I've got a background in high street retailing and charity retailing. In 15 years with the British Heart Foundation Shops Division, I helped to expand the number of shops from 50 to 500 and set up the Furniture and Electrical division. This opened my eyes to the power and impact of the circular economy, and the opportunity for charities to raise much-needed funds – through re-use and recycling, giving continued life to products that still had more to give. From there, I joined the British Retail Consortium as Commercial Director.
Sam: And on to World of Books?
Stephen: The four founders approached me in 2008 and persuaded me to join. My time with the BHF helped me understand the issues facing charity shops – shortage of space, particularly for storage, the continual need for fresh stock but also clear routes for disposal of what they couldn't sell. There's a balance to be struck between donations and being overwhelmed by too much stock.
Since 2008, we've gone from collecting waste and surplus books from 20 local charity shops to more than 3,500 across the UK. Some shops, we visit every day of the week. We pay charities by the tonne for the books we collect, and have generated more than £12m for charities in the past five years, through direct revenue and savings in waste disposal costs. It's a really good deal for the charities – raises revenue, saves money, enables a steady flow of stock – and a great business model for us.
Sam: So, what happens to the books once you get them back to Sussex?
Stephen: We then bring them back to our Worthing warehouse, scan the barcodes and ISBN numbers, and work out which we can sell – which there's a market for – and which we need to recycle. Of the 75m books we collect each year, the vast majority are recycled and turned into cardboard. This saves almost 450,000 trees and more than 180m gallons of water each year so it's a great deal for the environment. About 10% of the books we collect – about 7m a year – we sell through online platforms.
Sam: What would you say are the key decisions you took that have led to your success?
Stephen: We've invested very heavily in both software and infrastructure. At heart, we are a technology business as well as an online retailer. Yes, we deal in collecting, reselling, and recycling books. But fundamentally, we've been able to scale and grow because of our investment in software and technology. They are our secret sauce, but suffice it to say, there are more than 180 algorithms powering our business.
Sam: What's the purpose – the "Why?" – behind World of Books?
Stephen: This is unchanged from the beginning. We're a circular economy, for-profit company that supports charities and protects the planet by both recycling used books and selling them online. By providing a collection and recycling service for charity shops, we generate revenue for them and help them minimise their impact on the environment. Before the World of Books collection service, charity shops had to pay for unwanted books to be recycled. We've removed that cost and increased their revenue, while building a sustainable and scaled business for ourselves through recommerce.
Sam: Can you give me a couple of unexpected highlights?
Stephen: Some years ago, we got an email from a customer in Australia, who had bought a book her mother had read to her as a child and she'd enjoyed it so much now she had become a mother, she wanted to read the same book to her children. She was delighted that it had arrived so quickly, and in such good condition, and she also added the line: "Imagine my surprise when I opened the cover and found it had my own name in it." The circular economy had returned the very same copy of a long-lost, much-loved book to its original owner, half the way around the world.
We rarely get truly valuable books. Most charity shops are really good at spotting books that might be valuable, and often take the pick of their older books to local experts. On one occasion, however, we did find we had a really rare – and valuable – first edition of Ian Fleming's Casino Royale, an edition that included a misprint.
Sam: How do you deal with adversity, when your best laid plans don't turn out as planned?
Stephen: My approach is to dig deep and keep going. Given that 90% of all businesses go bust, you need resilience and determination if you're going to succeed. We've faced bumps in the road along the way – for example the impact of the 2010 Icelandic ash cloud on our ability to deliver books across Europe provided a series of setbacks. But, if you believe in your purpose and trust your team, there's always something you can do – facing challenges together. No matter how dark it seems.
Sam: What's your own relationship like with books, as a reader?
Stephen: As a young man, I was your archetypal voracious reader. Reading was my passion. War & Peace is my favourite book – I've read it several times. Currently, I read three or four, really good fiction books a year when I am holiday. Once we've doubled the business by 2020 and become the world's biggest online retailer of used books – in our plan and well on course – my aim is to rekindle that passion.
To find out more – and to find that elusive book you've been after for years – visit www.worldofbooks.com. Oh, and come along to Stephen's talk titled "Reuse, recycle and grow" at the Brighton Summit, of course.