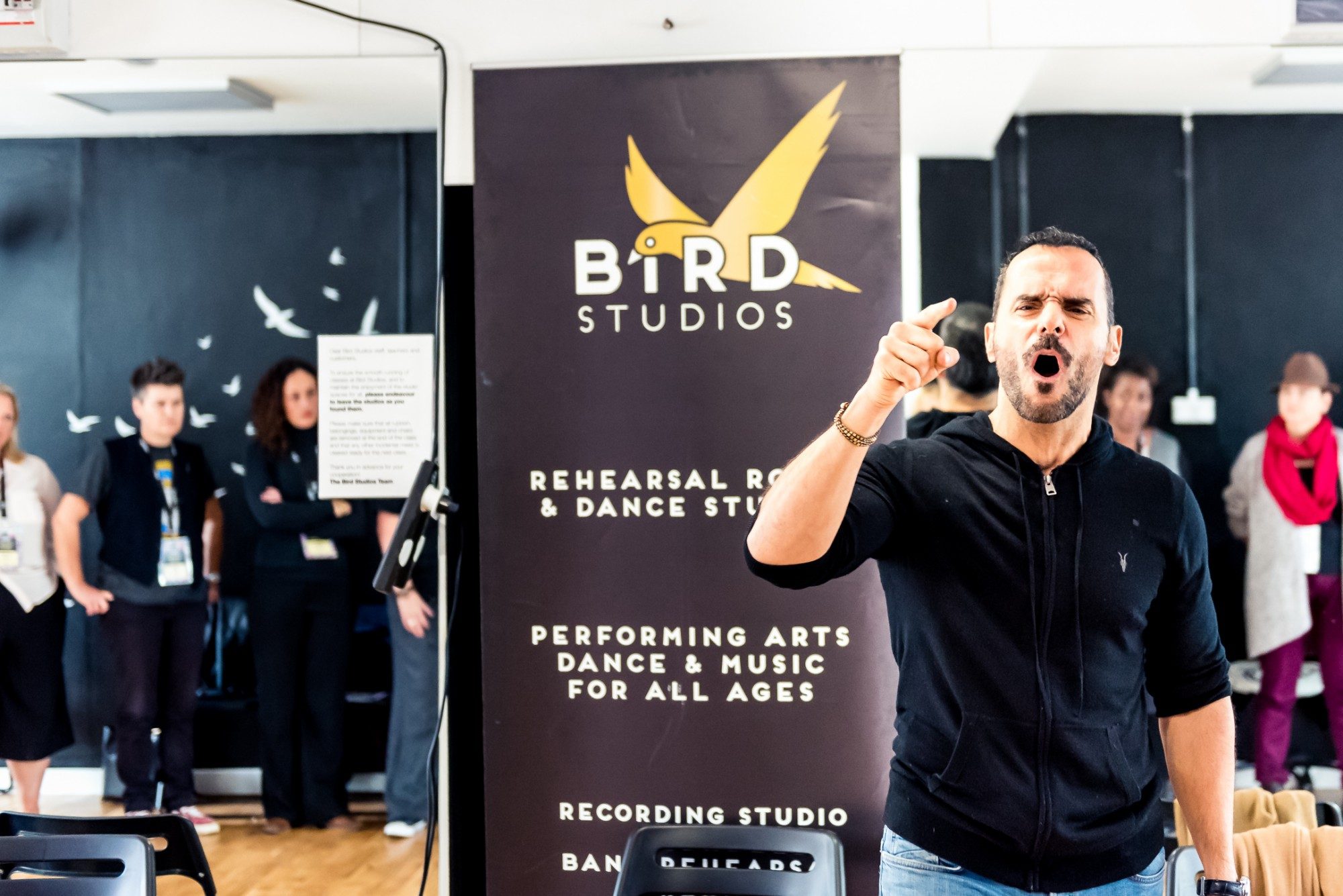 Exploring acting methods and vocal techniques for business use << Back
Posted on:
During this year's Desire Hour at the Brighton Summit actor Michael Greco, a tutor at Brighton's Bird Studios, held a West End workshop which included exploring acting methods and vocal techniques for business use, and learning a song from Chicago.
Michael Greco trained at Guildford School of Acting in London. He played Beppe di Marco in EastEnders from 1998 to 2002. He also played Billy Flynn in the West End's Chicago.
In 1999 and 2000 Greco won the British Soap Award for the Sexiest Male for his role in EastEnders. Greco has recently moved back from Los Angeles where he appeared alongside Kevin Costner in the three-part film Hatfields & McCoys.
Brighton Chamber's Lead Ambassador and Managing Director of PR and marketing consultancy Chimera Communications, Jill Woolf, met up with Michael just after the Desire Hour, and chatted to him about how he had found working with business people instead of stage school students.
Jill: Thanks so much for taking part in the Summit today and for spending just a few moments with me after your session. I imagine it was very different having business people of all types, ages and experience in the room. Did you enjoy it and just how different was it?

Michael: I did really enjoy it because it's great working with people who aren't actually actors or teaching kids who want to become actors. That's a long process which takes years and years, and they gradually get better at it but today, with people who have 'normal' jobs, their enthusiasm was in abundance.
Jill: Tell me more.
Michael: The ideas delegates had to put into practice, for example just walking across the room, were challenging! It wasn't easy and I could see that. As Shakespeare said "All the world's a stage" and everyone has a little bit of showmanship in them, so they really enjoyed the session. Actually, we could have gone on for hours. They also lost their inhibitions quickly; they really just got stuck in. I spoke to them about, for example, being happy or being angry and they just went for it.
Jill: Did you pitch your workshop differently because it was for business people?
Michael: Yes. With actors, it's part of a process but with business people who don't want to become actors, I just took the first two or three principles of acting. There are around 200 and we only had an hour.
Jill: What were the three principles you covered?
Michael: The voice (which is the most important thing), breathing which of course incorporates the voice, and physicality as an actor – not just fitness but how you stand, walk and use your body to create a character.
Jill: So that means your presence, which is equally important to business people.
Michael: Absolutely.
Jill: How did you find the input and questions from the delegates compared to your normal students?
Michael: Actually there were very few. They were very attentive and I took the stage along with Mia [Mia Bird, founder of Bird Studios] and we covered so much that the hour went really quickly. As adults, it was almost as if they didn't want to miss out of anything and they really appreciated this opportunity, which was great.
Jill: I guess people were there as they'd chosen your workshop so they keen to soak up the information eagerly?
Michael: Yes, that's right! So different from some children.
Jill: Were there any takeaways for you today from being with them that have surprised you?
Michael: Yes, actually. It was interesting to be with adults instead of young people, those who have day-to-day jobs and lives, families and other jobs, and it was something new to them to discover how to breathe properly, how to walk, how to create a character. So what I learned from them through just the feedback I got, seeing their smiling faces, is just how much they were enjoying it! It was like being back at school for them and something different from their normal mundane jobs, so I learned that they appreciated it a lot more than kids do. Kids probably take it a lot more for granted and the adults knew that this was something different, especially hearing it from someone different – I've done TV, West End, lots of work over 25 years. They were a good audience.
Jill: What do you think they're going to take back to their businesses from this session?
Michael: I think they're going to take back probably being able to stand up in front of people with more vigour, with more positivity hopefully; being able to use their diaphragm, which is very important in breathing. If you get in a particular situation where you're shallow breathing, you need to be able to relax into your breathing so you can do whatever you need to next because as I said, breathing is everything and you've got to be able to take good, deep breaths in order to relax yourself.
Jill: That's particularly important for those who present in their business life. It's something which is covered in the training I and my team do for presentation and media training, but I'm sure it really meant a lot more having this experience with a professional actor.
Michael: Yes, it's so important to get an audience relaxed in the first few minutes of a presentation and have them eating out of your hand. That's when you get a better chance to get your business ideas across.
Jill: So can we expect a Summit production next year then?
Michael: For sure! Why not?!
Jill: It's been a delight to have you on board for the Summit. Thanks so much again.