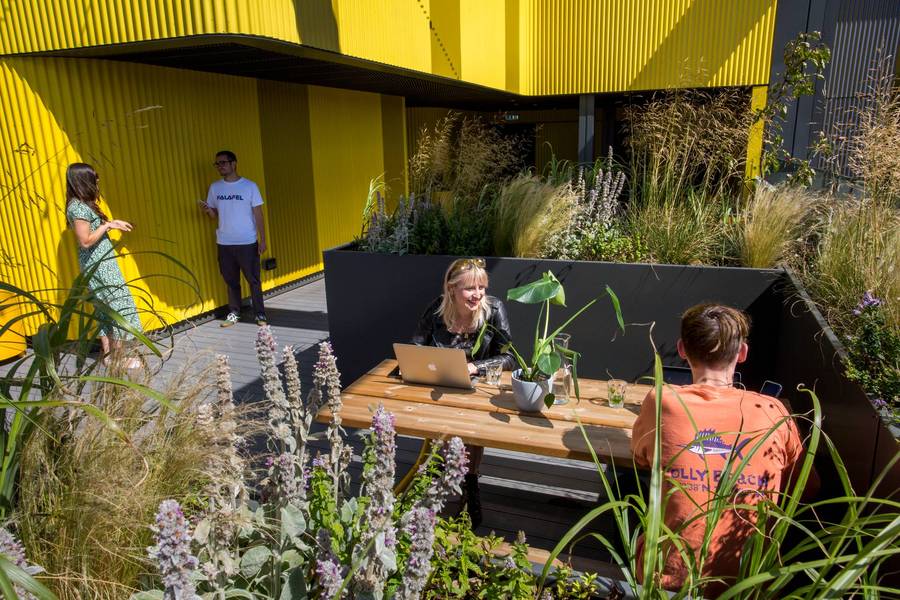 Empowering people, enhancing wellbeing, improving human health: the role of workspaces << Back
Posted on:
by Alicia Sullivan, Marketing Manager at Plus X Innovation
On average, we spend one-third of our lives at work. And, i f you're a founder or business leader, you're likely to be clocking extra time with out-of-hour calls and late-night emails. With the rising expectations of work-life balance in recent years, it's more important than ever to ensure your organisation is committed to enhancing the health and wellbeing of your employees – and yourself.
The concept of human wellbeing in the workplace has gained significant traction in recent years, and for good reason. According to a recent survey, 61% of today's workforce ranks personal wellbeing in the workplace as 'very important' for their organisation to prioritise means it's not only important for businesses to commit to wellbeing to attract and retain talent, but it's also critical to ensure a productive workforce that is motivated to attain business goals and objectives.
Leesman found that 59% of people feel that their workplace doesn't support their productivity. This isn't just unhealthy, it's ineffective, as wellness and productivity go hand in hand. As said by Paul Krugman, "Productivity isn't everything. But in the long run, it's almost everything."
Workplace wellbeing refers to the overall physical, mental, and emotional health of employees within an organisation. It encompasses a range of factors from ergonomics to mental health support and work-life balance and at Plus X Innovation, we believe that your workspace should match the wellbeing needs of modern teams.Plus X Innovation is committed to creating a working environment that nurtures businesses – and the real people that make up these teams. That's why some of Sussex's most innovative, high-growth companies choose to call Plus X Innovation home.
Our hubs are constructed with human health and wellbeing at the forefront by being designed to the WELL Building Standard Platinum guidelines. Olga Hopton, Workspace Director at Plus X Innovation says, "Being built to a WELL Platinum accredited standard means that human health and wellness are fully integrated into everything we do. From the architecture to the interiors, the curated community collaboration to the vibrant calendar of events, wellbeing is always a core focus for us."
And so, what makes a Plus X Innovation workspace a healthy choice for Brighton businesses?
1. Fresh air and fresh space
The premium ventilation and airflow system supplies offices and coworking areas with fresh air and removes stale air, and monitors VOCs, humidity, C02 and dust for the best air quality. Plus, teams can recharge and reconnect on our seventh-floor open-air roof terrace to surround themselves with greenery and fresh air.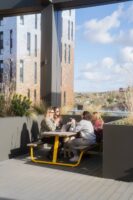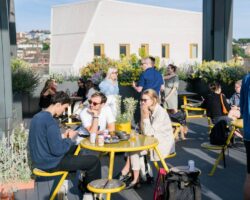 2. Keeping it green
According to a survey, healthy offices that incorporate natural elements in their spaces reported a 15% higher wellbeing score and a 6% higher productivity score among employees compared to without. With floor-to-ceiling windows surrounding our seven-story workspace that show off the flourishing elm trees, and indoor plants dotted around every floor, we optimise biophilic design to enhance the mental and physical wellbeing of members.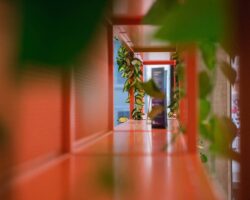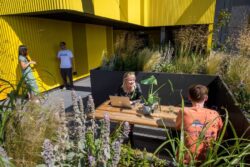 3. Healthy minds and healthy bodies
Workspaces that provide options for teams to prioritise healthy minds and bodies can save time and money for the individual businesses and people working within. Every week, members can access free relaxing yoga and meditation classes, or sweat out their stresses with community Boxfit sessions. The Plus X Innovation team are also Mental Health First Aid trained to help recognise and support the welfare of our members.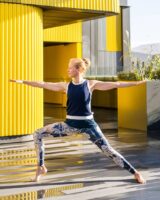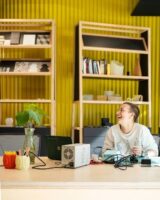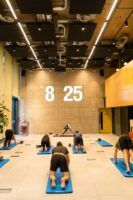 We invite you to come and try the Plus X Innovation wellness formula for yourself. Whether you're a freelancer or remote worker wanting flexible coworking with a buzzing community, or part of a larger team looking for private space to reconnect and innovate, come in for a free trial to test the space for yourself!
Book a tour on our website and enjoy a free trial the same day.
Plus X Innovation are sponsors of this year's Human: Brighton Summit on 20 October. Get your ticket here.