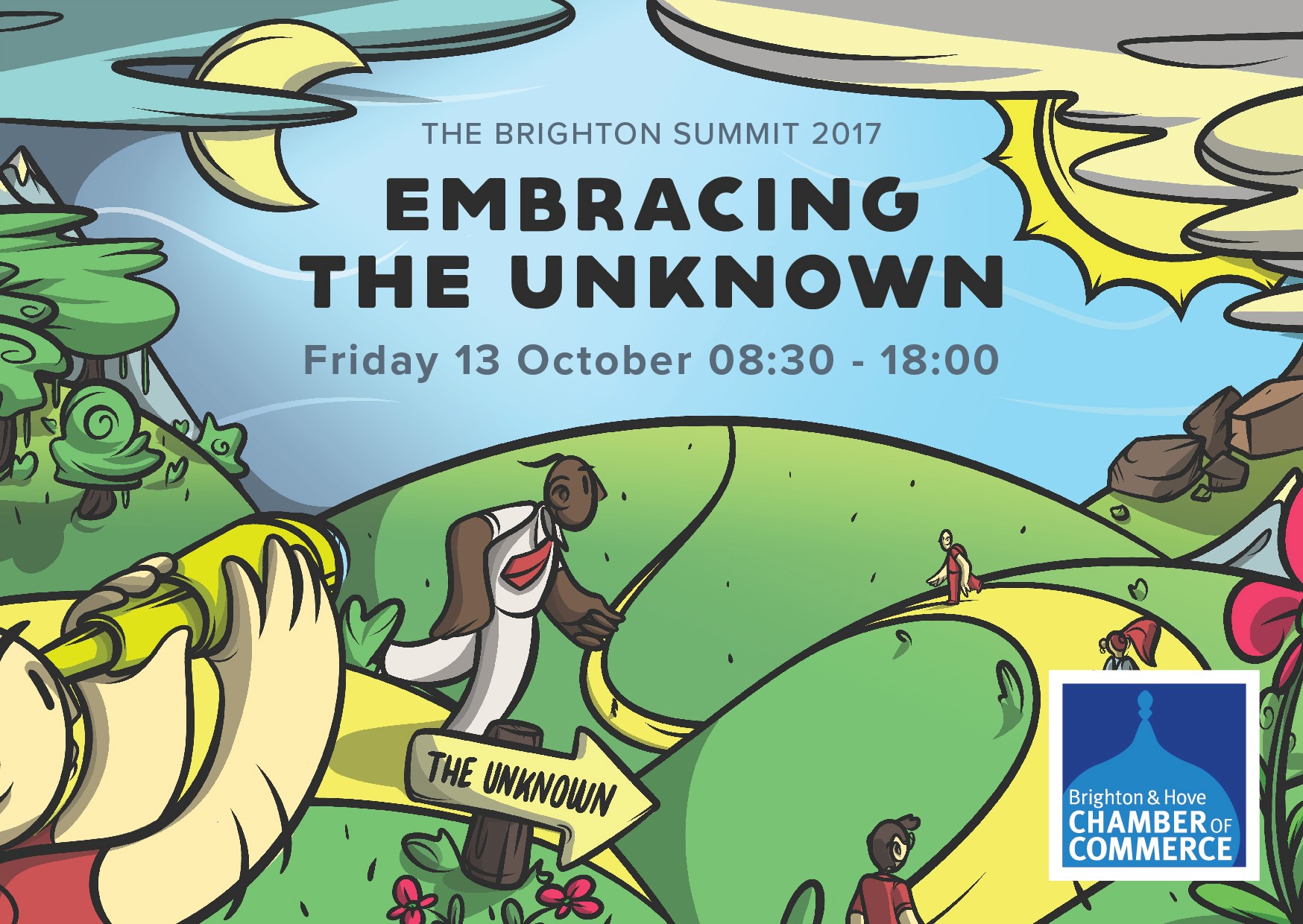 Brighton Summit 2017: Where do I get my ticket? << Back
Posted on:
As plans for this year's Brighton Summit are well underway, Sarah Springford, Director of Brighton Chamber, takes a look back at last year's event and explains why if you're looking to come along to a business event, the Brighton Summit is the place to be.
As we prepare to launch this year's Brighton Summit shiny new website I've been having a look through the feedback from last year's event. We do this to check that we have taken on board any useful suggestions but also to remind ourselves about what people loved best about the Brighton Summit.
'Quite literally 'world class. Can't imagine being more enthralled by more interesting and more inspirational champions in their field'.
Well yes last year's three keynotes were really excellent and all so different. Camilla Stephens and Mark Campbell from Higgidy, Luke Johnson AKA Brighton Pier, and Marc Koska the man who has saved so many lives and asked us 'What were you born to do?'.
'I found the format really refreshing, the speakers were excellent and I really loved the variety of the breakout sessions'.
There were excellent workshops like the one delivered by Think Productive, thought-provoking panel discussions and a Desire Hour which included sessions that were interactive, physical and informative.
'I can't think when I've rated conference food 10/10 – it was truly excellent, and none of the post slump – please do this every year'.
Agreed – the foodie suppliers were amongst Brighton best; breakfast's from Sugardough, lunch by Spade and Spoon, smoothies by YouJuice, cakes from Raise Bakery, canapes from SkyFall, treats from Healthy Supplies, not forgetting the Divine Chocolate! And as you might guess many of them will be taking part again in this year's Brighton Summit.
The Brighton Summit is one of my favourite days of the year. Last year I took away some important lessons about thinking strategically, the value of being clear about our aims, the need to take risks, and how to better organise my working hours.
'It is a fun, energetic event with a serious purpose. A good way to catch up and interact with a wide variety of businesses and organisations that make the City what it is today'.
The words that came up over and over again in the feedback were: great networking, fun, energy, great atmosphere, outstanding and inspiring speakers, challenging workshops, great food.
Have a look at what we've got planned this year on 13 October and how to get your ticket.